Posted: June 30th 2011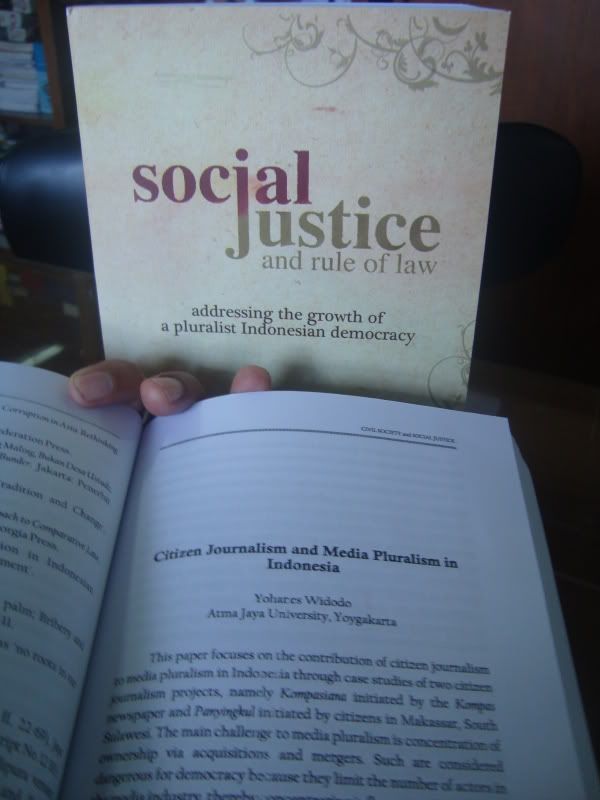 My paper titled "Citizen Journalism and Media Pluralism in Indonesia" has been published in Conners, Thomas J., Frank Dhont, Mason C. Hoadley, and Adam D. Tyson, eds. 2011. Social Justice and Rule of Law: Addressing the Growth of a Pluralist Indonesian Democracy. Diponegoro University Press: Semarang.
This paper focuses on the contribution of citizen journalism to media pluralism in Indonesia through case studies of two citizen journalism projects, namely Kompasiana initiated by the Kompas newspaper and Panyingkul initiated by citizens in Makassar, South Sulawesi. The main challenge to media pluralism is concentration of ownership via acquisitions and mergers. Such are considered dangerous for democracy because they limit the number of actors in the media industry, thereby concentrating influence in the hands of a small group of businessmen. Many conglomerates control or have substantial interest in the media, which can lead to conflicts of interest. Concentration of ownership also leads to homogenization of content and a decline of journalistic quality. To counter this problem since the 2000s there has emerged a citizen movement for alternative media facilitated by the Internet. Examples of these are the citizen journalism portals Kompasiana and Panyingkul. As found in two the cases studies, citizen journalism contributes to media pluralism in that it: (1) enables citizens to take part in the democratic process and to form opinions on the basis of information about political, social and cultural developments, (2) publishes underreported issues and invites citizen reporters to write on things not covered by mainstream media, (3) provides various topics, different points of view and a pluralistic choice of voices and access, (4) opens opportunities for passive readers to become active news providers, (5) offers a broad range of participation by various social groups, including minorities, and provides access to them, (6) accommodates content from diverse cultural backgrounds, hobbies, professions, and competence, and finally (7) opens space for citizens to participate in the exchange of information by reading, commenting on and writing opinions. Large scale citizen involvement is expected to accelerate the flow of information and strengthen the foundations of democracy in national and state life.
---